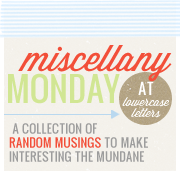 Happy Monday Ya'll!!
I just love my
students
. I love the genuine happiness that they show, their genuine appreciation for the little things in life. I love to see them progress, even if it's very slowly. I love it when they surprise me and do something unexpected. I love how they interact with each other, trying to hold each other's hands or touch another's head. I love their smiles.
In about a month we are going to NYC! We wanted to go and see all the Christmas decorations in the city. We are also going to an
islanders
game, it will be our first time going to a professional hockey game. But, I am the most excited about visiting the
moma
. Modern art....yes please! Can't wait.
This past weekend was great. We didn't do much, just crossed some things off our "to do list" around the house. Also, some preparation for hanging Christmas lights outside....very exciting.
This weekend begins the Thanksgiving festivities! I am making two pumpkin pies, and can't wait to eat them both. (Not by myself, although I probably could.) One is for a celebration Saturday night and one for a feast Sunday night. I think I have also figured out how to successfully seat 11 people at our table for that big feast Sunday night. Hope it works!

Well, that's it for this Miscellany Monday!