I haven't done one of these posts in awhile, so thought I would today!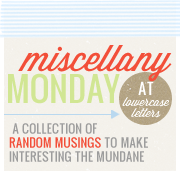 1. I am loving that spring is almost here. I am loving making plans to finally landscape our yard and make it look better. I am loving that warmer weather is around the corner. It makes me so happy.
2. We had a great lazy Saturday. After traveling to the other side of the country it was nice to relax and sleep. We raked more leaves in our yard on Sunday, but they just won't disappear! I don't know where they are coming from, but I can't wait to be done.

3. I have really been enjoying teaching the preschool Sunday school class at church. When someone at church asked me to volunteer because she thought I would be good at it, I admit I was doubtful. I have never worked with this age before, but I am loving it. And it surprises me how much I am loving the little ones, but I really do.

4. The 10k is 3 weeks away! I am really excited, I can't believe how close it is. Got a postcard in the mail, and it's on my fridge now. Makes me want to run more, which is always good.

5. My heart breaks for Japan. I honestly try not to think about it, because it is so sad. But, I know I need to pray for them, and pray things get better. I can't imagine not knowing if my family is safe or not, and loosing so many loved ones at once.

6. I start training for my job tomorrow. It was optional, but they are paying me to go, and I find special ed interesting, so i'm eager to learn more. I really enjoy learning and will take most opportunities to do so. I hope I get something out of it that helps me do a better job at work.