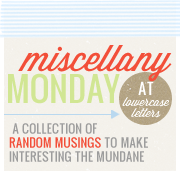 Welcome to my edition of Miscellany Monday!
1. I am loving our house in it's full spring glory!
All the plants up front by the house are recently planted. I hope that little tree we planted on the left side grows fast, it looks so tiny right now!
2. I recently started doing Zumba at my church. My sister-in-law wanted to go, and I thought it might be good to do some cross training for my running. I forgot how much I enjoyed it. I also must admit that I remember it being a lot harder than it is now. I think after all this running I am finally in shape!
3. Friday my class went to our Little Feet Meet, for the Special Olympics. It was such a great event. I can't even express how much I enjoyed it.
It was great for them to have an event about them. My students will never have ballet recitals, or basketball games for their parents to come watch, this is it. It was great to share that with their families and them.
4. I enjoyed watching the royal wedding. I didn't wake up early to see it, but I did stay up way too late that night watching the coverage on the news. I honestly didn't really care that much about it, until I turned it on and got lured into it. I loved her dress, that was the main reason I turned it on to begin with, had to see that! What did ya'll think?
Hope everyone has a great Monday!!